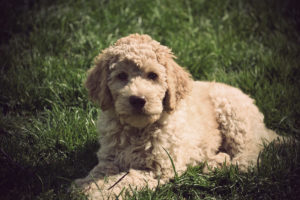 I am a nurse, and my husband and our 2 children live in St.Thomas, just outside of London, Ontario. We are all dog lovers and my husband and I have owned dogs most of our lives. I have always had an interest in animal husbandry and have bred fish and butterflies in the past.
Our first family dog passed away when the children were very young after a wonderful 13 year life. We missed her dearly. We delayed getting another dog since our children both have special needs. Our son has Asperger's syndrome. Once the children were older and in school, we really missed having a dog around. I contemplated getting a service dog for our son but I really wanted a dog that did not shed. Through research, I found the Australian Labradoodle. My husband and I decided we did not want a full service dog but we wanted a very special family pet.
After reading the history and ongoing development of this special breed, I chose to take part in the continued development of the Australian Labradoodle. We have 2 Australian Labradoodles that live with us and more that live in guardian homes and we absolutely love them.
About our Program
We are a registered breeder with the ALAA breed club registry.(Australian Labradoodle Association of America) We are proud to participate in the health testing reward program which awards a silver or gold paw award to breeders who go above and beyond basic requirements in health testing. We have received the highest award available which is the Gold Paw which is proudly displayed on our website. We have gone even beyond that and have tested for even more genetic diseases than required for the award. We have been breeding Australian Labradoodles since 2010. We acquired the best breeding stock available from breeders who strive to protect the original lines that were created in Australia by Rutland Manor and Tegan Park breeding facilities. We breed between 2-4 litters a year which allows us to spend lots of time focusing on raising and socializing our puppies. Our labradoodle puppies are all born and raised right in our living room so they are used to family life, noise, and lots of cuddles right from birth. We breed labradoodle puppies with the goals of health and temperament being the most important qualities. These breeding practices allow us to produce the best Australian Labradoodle puppies possible. Our labradoodles are of the highest quality and make excellent family pets as well as therapy dogs or service dogs.
Our Labradoodle parents are all health tested to make sure our puppies are healthy and happy. Our Australian Labradoodle puppies all come with a 3 year health guarantee as well as a temperament evaluation from a professional trainer. Each puppy will go home with it's own evaluation report. This ensures that our puppies will make wonderful companions; either as a family pet or as a service dog or a therapy dog.
We are currently accepting applications. We can match you with the perfect labradoodle puppy for your family.
Read more about what makes a successful breeding program: